Each year the impacts of extreme weather and climate events around the world continue to increase, resulting in the loss of life, bodily harm, significant damage to property and investments, as well as adverse economic losses to communities. This is evident from The World Economic Forum's Global Risk Report for 2018, which concluded the three most likely and impactful global risks to business are all weather-related. The report identified extreme weather events as the #1 global risk, in terms of likelihood, and second in terms of impact.
Organizations are collecting and analyzing more weather data than ever before, helping governments, communities, businesses, and individuals better understand and manage the risks associated with extreme weather and natural disasters. Additionally, extreme weather events are increasingly well forecasted with accurate and timely warnings and alerts disseminated by National Meteorological and Hydrological Services (NMHS). Despite this wealth of knowledge regarding advanced weather forecasts and warnings, extreme weather and natural disaster events continue to adversely impact humanity. The challenge members of the global weather, water, and climate enterprise face is ensuring that life-saving weather warnings reach the greatest number of people potentially impacted by hazardous weather with enough advance notice to allow people to take proactive steps to remain safe and out of harm's way.
Since 2014, AccuWeather has partnered with the National Oceanic Atmospheric Administration (NOAA) on a key Weather-Ready Nation initiative as one of its first program ambassadors to help build preparedness and resilience to extreme weather, water and climate events. Working together, this government and private weather industry partnership provides critical resources and weather information to benefit infrastructure and businesses that operate on a large scale. Today,
AccuWeather, which serves 245 of the Fortune 500 and thousands of other businesses and government agencies globally, is actively working to help make people of all nations "weather-ready" through global engagement and collaboration with NMHS and other data providers.
AccuWeather actively partners with organizations to disseminate critical official government weather warnings to a large global audience quickly and accurately. This collaboration maintains and strengthens the government's authoritative voice for weather warnings while also communicating expected impacts which is critical to saving lives and mitigating losses caused by extreme weather events.
Together, we save lives, prevent harm and mitigate economic loss from natural disasters.
Mutually Beneficial Partnerships
AccuWeather shares a common public service mission with NMHS and governments around the world; A key part of its mission is to "save lives, protect property and help people prosper," which is well aligned with the missions of many NMHS organizations. For more than 56 years, AccuWeather has been saving lives by providing the most accurate weather forecasts and warning integrated into its innovative products. We are proud to assist governments and NMHS in their efforts to protect life and property.
AccuWeather, which receives over 40 billion data requests daily, works collaboratively with NMHS by helping to amplify the distribution of early weather warnings and other unique foundational weather insights both within the borders of each country and around the world through AccuWeather's large and well-established user base. Building upon the NMHS's trusted voice as the source of weather warnings in addition to AccuWeather's global digital business and weather forecasting expertise, a collaboration with AccuWeather enables virtually all residents and visitors of a country to receive important, relevant, and potentially life-saving actionable weather forecasts and warnings.
These life-saving collaborations are intended to complement the existing efforts that are being done by the NMHS working with media organizations, emergency managers, civil protection, and others within their countries to distribute important early weather warnings.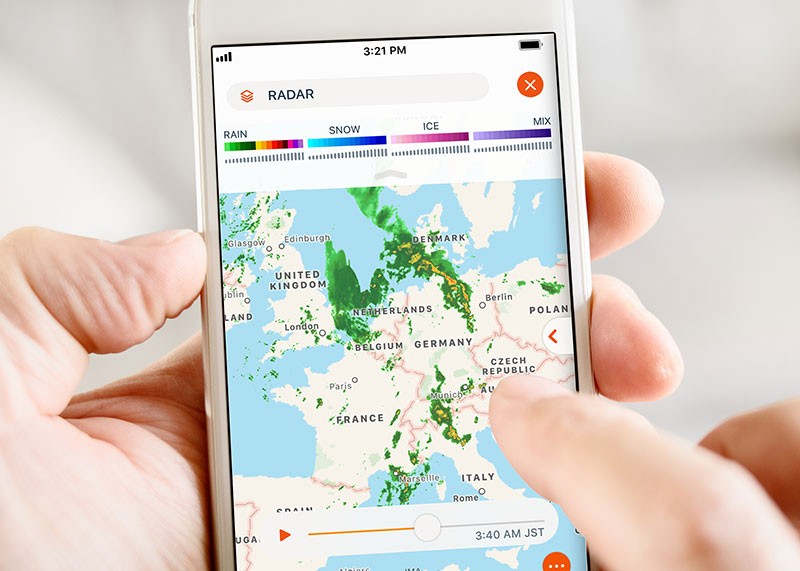 Partnerships, such as NMHS's with AccuWeather, directly connect NMHS to end users in a new way by leveraging AccuWeather's global reach. In many cases, AccuWeather has added another layer of safety and distribution, as some residents were not even aware that their government provided weather warnings until they saw them integrated into AccuWeather's digital products. We have received this feedback from many users, who are thrilled to have AccuWeather rebroadcast life-saving warnings from their government through the AccuWeather platform. This also provides new awareness and brand recognition for the NMHS within their country.
The combination of leveraging a global platform like AccuWeather's and the NMHS's weather data results in the highest quality distribution mechanism possible for alerting people about significant and impactful weather affecting their citizens and visitors.
As a result, the primary goal of saving lives, minimizing bodily harm and property losses in addition to day-to-day planning is achieved by drawing attention to hazardous and impactful weather events.
As one component of AccuWeather's vast product suite, AccuWeather currently distributes official government warnings to the public from nearly 50 countries around the world by leveraging the robust distribution platforms AccuWeather has developed to deliver important life-saving warnings generated by those governments. These warnings are not exclusively limited to weather events as flexibility has been built into our system to allows us to process warnings related to any natural disaster event like flooding, earthquakes, and poor air quality just to name a few. AccuWeather believes in the importance of distributing these critical warnings to a global audience so people and businesses have the information and time they need to make actionable decisions to save lives and minimize loss.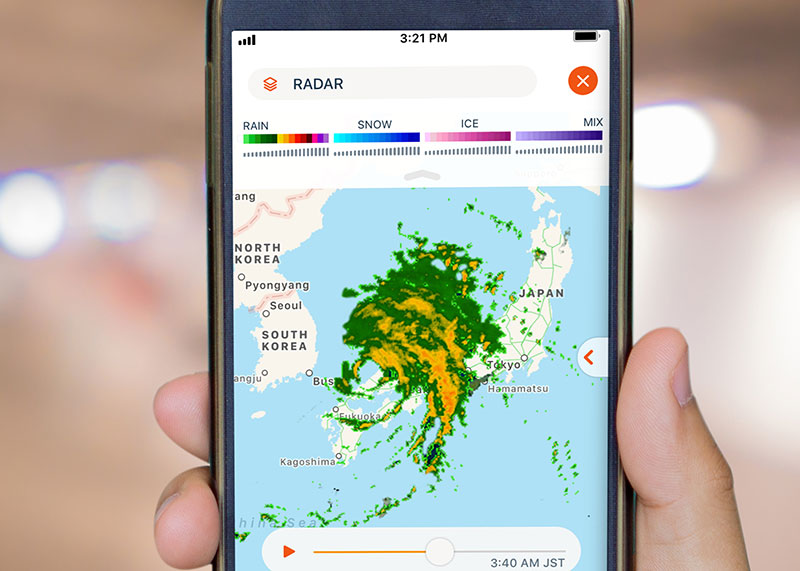 Weather warnings are always prominently highlighted within all products and interactive maps on AccuWeather's popular apps and websites, so it is very easy for users to know if there is a warning in effect for their city or location. AccuWeather works closely with each government agency to make sure weather warnings displayed are clearly marked as coming from the official agency, maintaining and strengthening the government's voice for weather warnings. Additionally, the original warning text received directly from the government agency is displayed and no modifications are made by AccuWeather to the official weather warnings.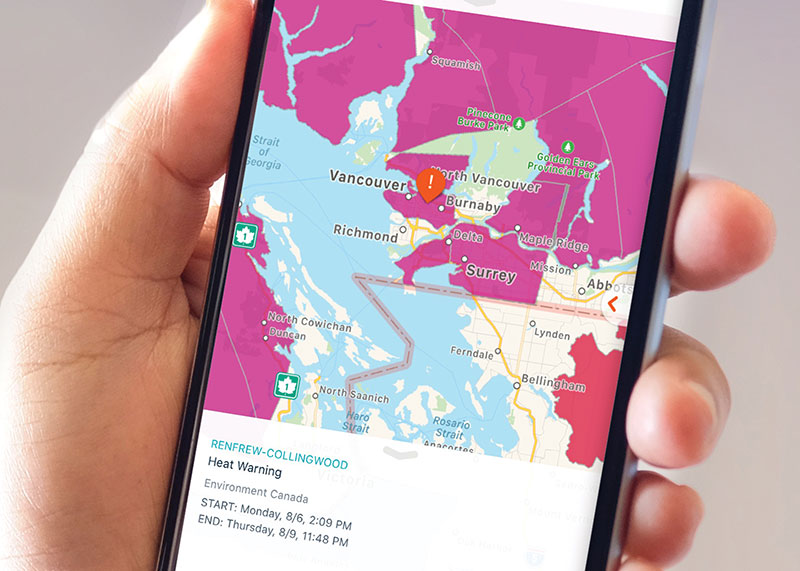 Understanding that many countries have multiple official languages in which warning messages need to be communicated and disseminated, AccuWeather's technology allows weather warnings to be delivered in as many languages as provided by the government source. The warning type in effect is also translated into all AccuWeather's 200+ languages and dialects, so that travelers from around the world will be aware of what type of warning is issued regardless of the country they are visiting.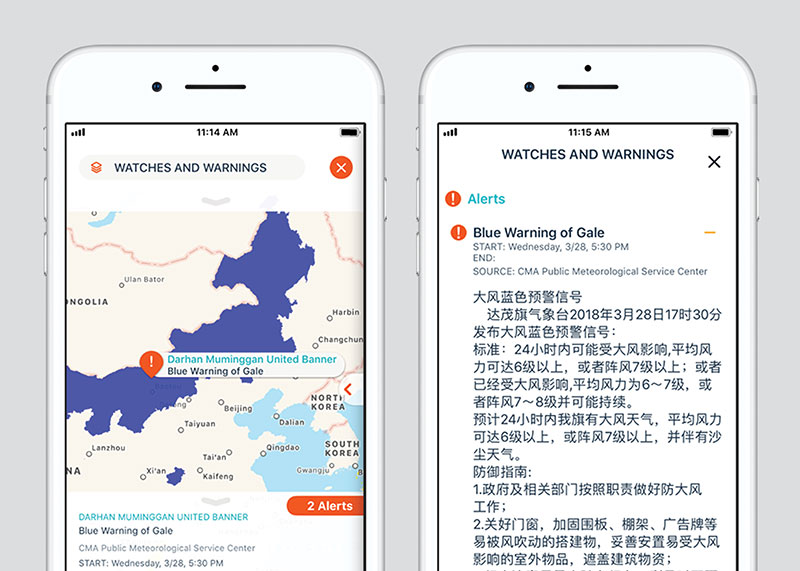 In addition, AccuWeather's technology easily allows for warnings to be sent automatically as a push notification to mobile devices and enables the important message to be prominently displayed on the user's screen, even if the device is not currently being used. Users immediately see the full details of the weather warning. This is a key and unique capability which only AccuWeather provides to serve as an important and valuable distribution channel for governments to deliver timely warnings to the public, so people can proactively take action and remain safe.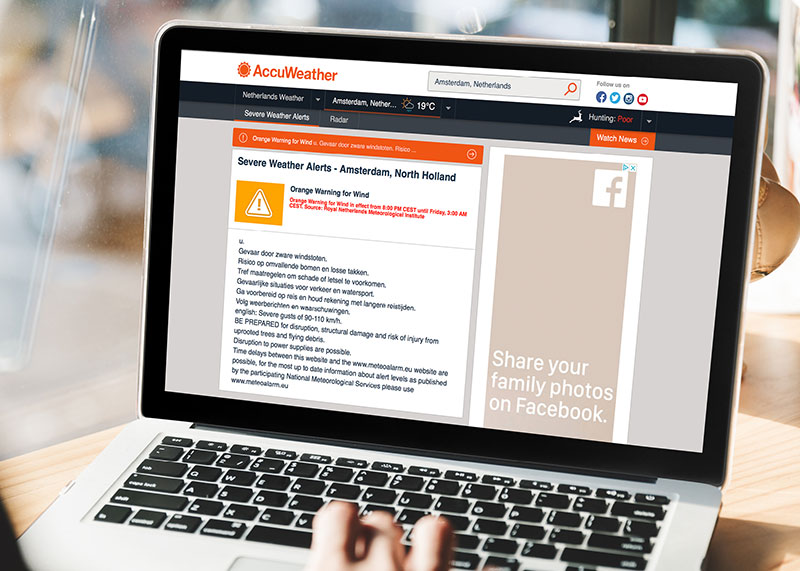 Since AccuWeather already partners with numerous NMHS organizations globally, we work with a wide array of data formats organizations are already producing for other purposes, such as: CAP, XML, WMO bulletin text, etc. AccuWeather also provides expertise and guidance when needed on data formats and methods of delivery and communication based upon our extensive experience working with government providers all over the world.
The collaborative nature of our partnerships with NMHS allows us to frequently review and ensure together that both of our goals are being achieved. For example, we have assisted countries with best practices as they have evolved CAP warnings and provided input on warning system designs to ensure products are in formats that can be reliably and quickly distributed to the public. AccuWeather routinely provides quality control feedback in real-time to identify dissemination challenges and errors and enables NMHS partners to quickly address these issues in a timely manner.
Let's Take Your Warnings to the Next Level!
For more than 56 years, we have established our reputation as the world's leading provider of weather forecasts and warnings with Superior Accuracy™ and the world's most trusted weather brand. We take this responsibility seriously. The greater the accuracy of our forecasts, the better decisions people and businesses can make in the face of hazardous weather events and the more lives saved and losses are reduced. By providing the most reliable and accurate forecasts with greater detail on location and impact, further ahead than any other source to the largest number of people possible, we all win. There are no fees charged by AccuWeather to deliver the official weather warnings of NMHSs to a larger audience within AccuWeather products, which furthers the fulfillment of a government's public service mission.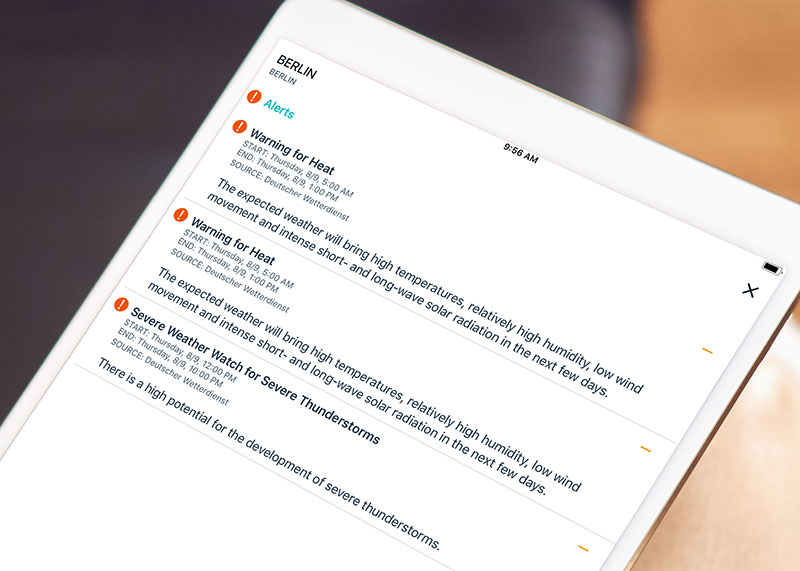 These types of collaborations jointly take weather distribution to a higher and broader level in countries around the world. Today, all citizens of and visitors to these countries are more "weather-ready" and more aware of hazardous and impactful weather events because of this innovative collaboration. Ultimately, these partnerships assist in saving lives, protecting property, and helping people plan their day. Through this type of mutually beneficial partnership, AccuWeather assists government agencies in delivering true public service.
For more information about how your government agency can start working collaboratively with AccuWeather today, please contact AccuWeather's Manager, Global Data Partnerships, Matthew Alto at matthew.alto@accuweather.com or +1 (814) 235-8576.